Life consists in what a man is thinking of all day.
Ralph Waldo Emerson (1803-1882)
I have often wondered what we would look like if what we thought were somehow visible on our face. . . . In a way, though, it is. After years of thinking ugly thoughts, does it not show in the habitual scowl or snarl lines some people seem to wear?
Sorry - don't mean to make a political statement here, but hers was the easiest scowley face to find. . . .
Hillary doesn't look so bad when she smiles.
But you can still see those scowl marks in between her brows.
Then there are others who make you feel real friendly before they've ever said a word. I think it's the smile lines.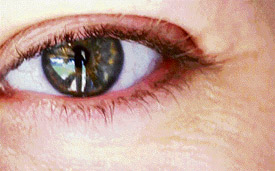 Of course, it's not easy to get a picture of someone who has laugh lines when they're not actually smiling. . . .
OK - so that's how we hold our faces. Or how we translate emotion into physical experience: tight-shouldered tension, sweaty nervousness, the tingle and flush of attraction. . . .
How about the
content
of our thoughts? What difference between - say - the one who thinks of nothing but the details of his next gourmand feast, and the one who dwells on how best to feed and clothe the poor and hungry?
Or the one who is obsessed with what she looks like, versus the one obsessed with her garden? Or his car? Her music? His stockmarket portfolio? Her track record?
Not to mention things like war, peace, education, criminal law, ecology, animal welfare, politics, God. . . .
Who knew "life" could be so complicated?